Wrestling tends to be one of the more underestimated forms of martial arts however, it can get you into the best shape of your life. Challenging you both mentally and physically, wrestling will help you to develop sheer speed, strength, endurance and a rock solid mental state. Regardless of the height or weight you are, wrestling only requires strong determination and hunger for success. If you are still wondering whether you should consider wrestling, here are 5 benefits from UFC Gym to help you decide.
Burn Calories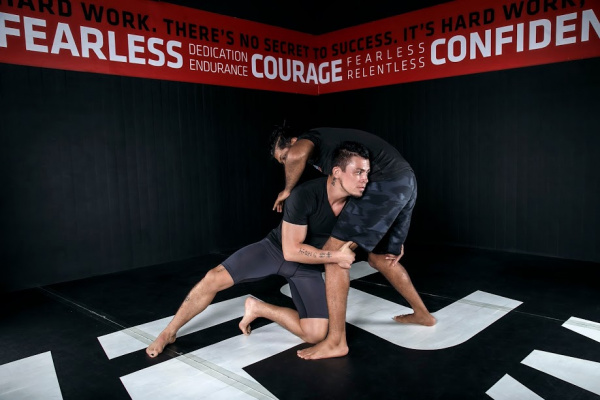 Photo: UFC Gym
If you are looking for a serious way to burn calories, you should consider wrestling. The combination of strength-training with aerobic exercises and daily matches against opponents will help you to burn calories at different rates depending on the exercise. Just as an example, wrestling matches can help you to burn up to 400 calories in a 6-minute match and double that amount for a 12-minute match, therefore you can easily burn over 1000 calories in a session, depending your weight and the intensity at which you train.
Get Fit
Whether you are practising and doing a full body workout or wrestling in a match, you are guaranteed to use all the major muscle groups in the body, making it an ideal sport to get fit.  There will be moments when a wrestler will burst out into paroxysms of energy which will, over a certain period of time depending on the frequency you practise, develop stamina. Whether you are doing long or short sessions, your body will constantly be in motion, using high levels of energy, which is a major component to keeping you fit.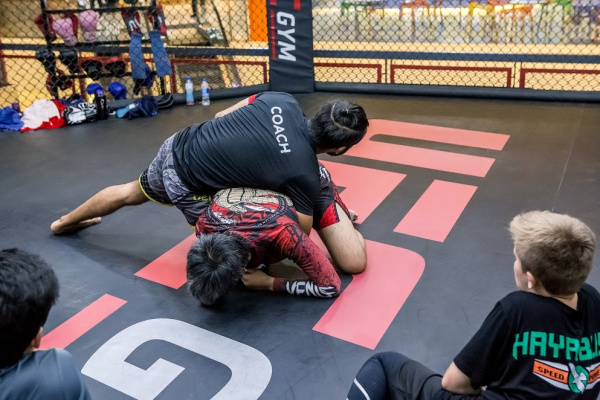 Photo: UFC Gym 
Discipline
Discipline is defined as "training that corrects, moulds or perfects the mental faculties." The greatest lesson that you can learn from wrestling is that this form of martial art requires tremendous work ethic and determination. If you persist and push yourself to the limits, you will learn how to overcome many challenges and obstacles and make yourself both mentally and physically stronger, whether on or off the mat. Wrestling will help you to acquire many skills, including self-reliance and great discipline. When facing an unpleasant situation, where one single move can make a difference, planned or unplanned, you will be able to stay calm and work your way out of it. 
Improved Focus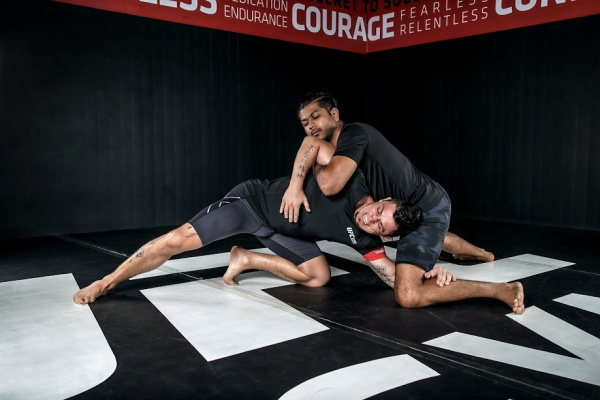 Photo: UFC Gym
If you think this is vague, it is not. When you wrestle, it's just you and your opponent. This one-on-one situation, as mentioned before, helps with your discipline but it also helps you to become more goal driven, stronger mentally but most important of all, it will boost your confidence. The more you face these situations, of being one-on-one against an opponent, the better you will become at controlling the situation and turning it into your advantage. This will, however, require sheer dedication and many hours, but once you start, you will be wanting to challenge yourself more.
Become Stronger
Lifting weights makes you feel strong and, to an extent, it does however it requires you to hit the gym regularly otherwise you can lose it quickly. Wrestling requires a lot of dedication, however, once you have reached a certain level, your body takes a longer time to lose it. Just picture two wrestlers of very similar weight, trying to win against one another, by only using their strength. This is why wrestling is known to make fighters stronger, as it is one of the rare sports that fully challenges your body in many ways with moments of explosive intensity.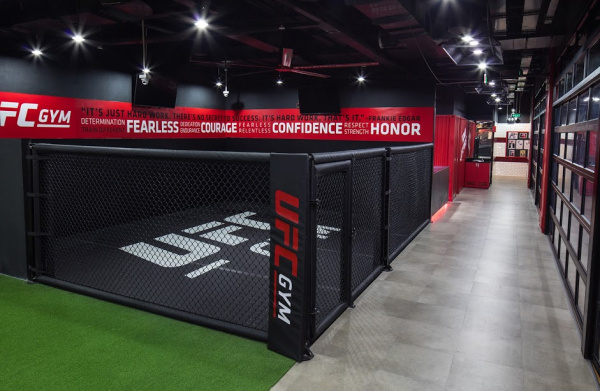 Photo: UFC Gym 
Are you ready to try a wrestling class? Get a free pass to UFC GYM today!
To celebrate 10 years of Making Life Better in Vietnam, CMG.ASIA, which manages California Fitness and Yoga Centers, Eri International, UFC Gym Vietnam, CaliKids Academy and Yoga Plus, is hosting the Super X Prize, with a total prize value of more than 5 billion VND. This is a way for the corporation to thank all the loyal clients who have invested into their health with us over the past 10 years.
Visit http://www.xprize.vn or contact reception for more information on this exciting event.
Baptiste Solente (Calipso)
Learn more about UFC Gym Vietnam:

District 2 - Ho Chi Minh 3rd Floor, Thao Dien Pearl, No. 12 Quoc Huong, Thao Dien Ward

UFC Gym Website: http://www.ufcgym.com.vn/

Facebook: https://www.facebook.com/cfycvn